Fidelis has appeared in a record number of BRECHT plays:
THE MOTHER   She played Pelagea Vlasova – the title role, The Mother at Glasgow Citizens Theatre
"To be a success the play needs a convincing Pelagea and Fidelis Morgan fits the bill ideally.  Restrained but powerful, giving an excellent display of wry bitterness and stubbornness, she invites the audience to complicity with her growing conviction and struggle." The Scotsman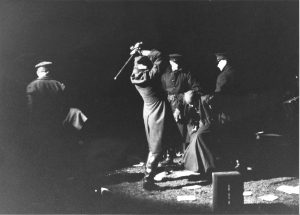 "Fidelis Morgan's Vlasova was notable for its native intelligence, cunning and ultimate monumentality" The Guardian
"Fidelis Morgan's fine performance in this central role – forceful, funny, beautifully paced and articulated – guarantees the production's success as theatre" The Standard
"Fidelis Morgan is a joy to watch as Pelagea. Tough, practical, sly when necessary, yet obviously possessed of a fierce maternal love, she successfully traverses the pitfalls of mawkish sentimentality to give a performance that bristles with believable zeal" Glasgow Herald
FEARS AND MISERIES OF THE THIRD REICH is a type of revue, consisting of many short sketches.  Along with the rest of the ensemble cast, including Alan Rickman, Stephen Dartnell, Robin Hooper and Jane Bertish, Fidelis played various suffering Germans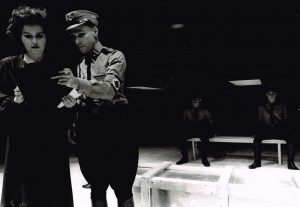 ARTURO UI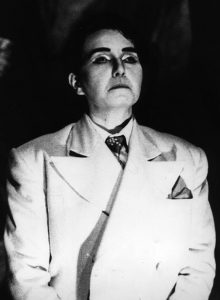 Fidelis played Arturo Ui – Brecht's take on Hitler, at Liverpool Everyman.
THE THREEPENNY OPERA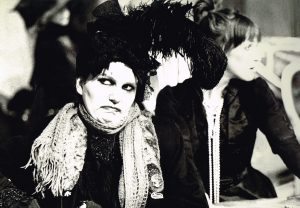 Fidelis played Mrs Peachum in Philip Prowse's terrifying production of Brecht's The Threepenny Opera (adapted by Brecht from Gay's A Beggar's Opera) – with a cast including Sian Thomas, Chris Jagger and Ciaran Hinds as Mr Peachum
"Fidelis Morgan looks and sounds suitably chilling as Mrs Peachum" The Times

BERLIN DAYS; HOLLYWOOD NIGHTS  
In a new play by Nigel Gearing ABOUT Brecht, Fidelis played Ruth Fischer, the sister of Hans Eisler, Brecht's sometime collaborator. The production, directed by Pip Broughton, toured the UK for the Paines Plough company, and had a packed out run at London's The Place Theatre.
"Fidelis Morgan (also good on the drums) makes of the enigmatic Ruth a dignified presence in whom one believes." The New Statesman
"The angry betrayal of their sister (Fidelis Morgan) is more telling for being spoken so politely." The Times
"Fidelis Morgan manages to make Ruth, the dedicated party member who recanted went over to the Hearst press and died in Paris (Wildean credentials for an American), the convincing embodiment of intellectual, activist, femininity, as well as attractive and vulnerable (for once you can believe in a character's reputed intelligence). She is also a nifty drummer." Financial Times