SCHILLER
MARY STUART  
Directed by Philip Prowse at Glasgow Citizens Theatre, Fidelis played Queen Elizabeth
"Fidelis Morgan's frosty venomous Elizabeth rises to Philip Prowse's production with blazing conviction". The Sunday Times

The performance of Fidelis Morgan reaches considerable heights of expression…a stridently autocratic ‑ and very convincing ‑ portrayal of the English Queen  The Scotsman

A wonderfully memorable Elizabeth The List

But the evening undoubtedly belonged to Ann Mitchell and Fidelis Morgan who gave real stature to the two very different royal women… Fidelis Morgan, in turns irresolute and domineering as Elizabeth, was always every inch an absolute monarch  Plays and Players

Elizabeth's imperious bark and cutting edge are sovereignly done by Fidelis Morgan   The Glasgow Herald
Queen Elizabeth's costume for this production was made of duvets, jewels and other heavy items and it took two dressers to lift it on as it weighed about 5 stone. It was used for many years as a demo to children who think they might WANT to be an actress.
GOETHE
Fidelis was assistant director on Robert David Macdonald's production of TORQUATO TASSO
TOLSTOY
ANNA KARENINA
A remarkable production by Philip Prowse and adapted by Robert David MacDonald  features five actresses who all played Anna, and each took on one of the other roles.  Fidelis had the duo of the angry passionate Anna, and Anna's nemesis, Lydia Ivanovna.
Anna is beautifully handled by the five actresses… The Independent
Fidelis Morgan is the most interesting of the five women whose portrayals merge into a composite study of Anna.  The Scotsman
The fierce Fidelis Morgan the Anna who reacts to the trap in which she finds herself with cutting anger and scorn  The Observer
Fidelis Morgan's Anna is strong and displays authority  Financial Times
CHEKHOV
THE SEAGULL Fidelis played Paulina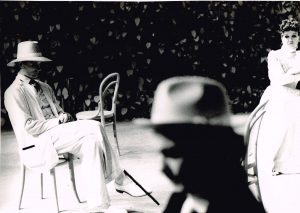 Sitting in the wings during this production Fidelis came up with the idea to write The Female Wits