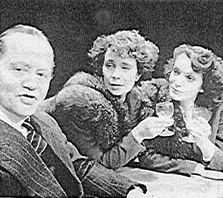 Dudley Sutton, Celia Imrie and Anne Lambton
Adapted from Patrick Hamilton's novel for Cut and Thrust at the Lyric
Directed by Caroline Sharman and Matthew Francis
Adapted from Patrick Hamilton's novel about a schizophrenic in seedy 1930s London, this was performed at the Lyric Hammersmith in 1990 with a cast including Dudley Sutton and Celia Imrie. It was a huge success, attracting an enthusiastic audience packed with such celebrities as Liza Minnelli, Stephen Sondheim, Lynda La Plante, The Pet Shop Boys, Lionel Bart, Michael Winner, Ian McShane & Mick Jagger.
It was revived in 2008 by the Finborough Theatre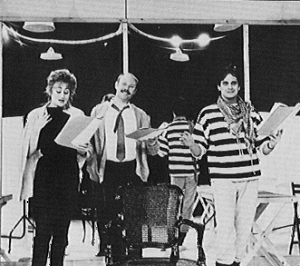 Adapted from Richardson's novel by Giles Havergal and Fidelis Morgan
Directed by Giles Havergal for Shared Experience
An imaginative and indeed brilliant piece of work… Havergal and Morgan have indeed written a new 18th century play – Financial Times
Sian Thomas, Robin Hooper and John Baxter
Other plays include:
Fragments From the Life of Marie Antoinette

Fragments From the Life of Marie Antoinette With Jill Benedict

Directed by Fidelis Morgan with design by Geoff Rose, the play was performed by students of Liverpool Institute of Performing Arts
Madonna and Child – originally commissioned by Vivian Merchant and unproduced.
Lady Audley's Secret
Trilby