Fidelis adores to direct, preferably plays which are out of the ordinary and crammed with theatrical opportunity.
Please click on the live titles for further information and photos
A long lost play by Robert Graves was given its first ever airing with an all-star cast and directed by Fidelis.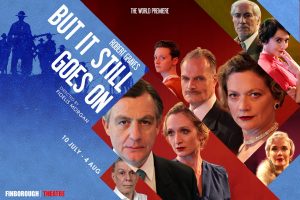 Laughing Matters – Crazy Coqs, St James Studio, Queen Mary 2 & Southampton Nuffield Theatre
Celia Imrie's revue with Tristran Temple and Todd Talbot.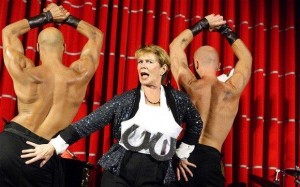 **** "Laughing Matters is an absolute joy.  How could we not love it?!"  Gay Times
"Hysterical, camp and laugh out loud" Everything Theatre
'Fabulous. The show is an utter joy. Go see!' Capital Cabaret
**** 'Extremely funny, extremely eccentric' The  Times
Fidelis directed Lennox Robertson's Irish comedy about a troupe of Chekhovian actors visiting a quiet seaside town and creating havoc, which played to sell-out houses in the autumn of 2011.  Fidelis created a sensational ensemble consisting of Celia Imrie, Jack Klaff, Frances Lowe, David Walshe, Hermione Gulliford, Ellie Turner, Anthony Delaney, Oengus McNamara, Lee Knight, Christopher Logan, with Rupert Frazer and Juliet Cadzow as the actors, and featuring a cameo performance from Paul O'Grady.
"The tiny Finborough Theatre in Earls Court is well known for punching above its weight: Currently showing in the intimate upstairs space is a new production of 'Drama at Inish' by Lennox Robinson , brilliantly directed by Fidelis Morgan'  Time Out

Fidelis Morgan's production is full of hustle and bustle as the cast of thirteen swirl around… it is all played with a jovial silliness that lifts the heart.  The Public Review
The Piper – Finborough Theatre
Fidelis directed the reading of this wildly original musical version of the Pied Piper, by Coleen Murphy, with a cast of 22, including 5 paedophile rats.  The cast included George Irving, Sian Thomas, Carsten Hayes, Rupert Frazer, Robin Hooper, Christopher Webber, Frances Lowe, Angus Imrie and Pauline Moran
'The reading of this play was extraordinary with a fantastic cast who played with such zest and enthusiasm.  The director should be applauded in gaining such a cast and bringing to the play such enlightenment.'  London Theatre Review
The Wooden Meadow
By Stewart Pringle at the Finborough.  Fidelis directed a reading of this new play about The Theatre, with a cast including Hermione Gulliford, Jack Klaff and Ian Redford.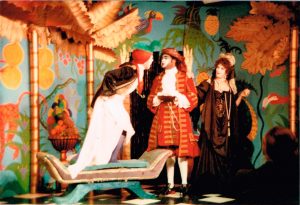 Fidelis directed this musical version of Susanna Centlivre's play The Custom of the Country.  The cast included Sian Thomas, Robert Gwilym, Celia Imrie and Paola Dionisotti.
'Morgan works wonders of ingenuity in the King's head's small space, keeping the action of this bawdy farce continuously spinning' – City Limits

'Miss Morgan's direction has imaginative touches' – The Observer

'Certainly worth catching' – Time Out
La Serva Padrona – Colmar Opera Festival
Fidelis directed this chamber opera with a cast of three:  Ulrik Cold, Yung Hee Kim and Stewart Permutt as the mute.  Sadly no photos.
Performing Ceals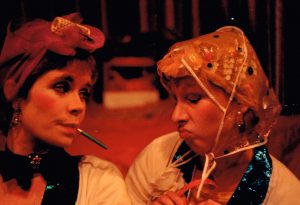 Fidelis directed the revue Performing Ceals which starred Celia Imrie and Celia Foxe.  The show opened at La Bonne Crepe and played subsequently at The Kings Head and the Comic Strip
The Basset Table
Fidelis directed the rehearsed reading at The Royal Court, with a cast which included Gary Oldman, Celia Imrie, Pauline Moran and Lynda La Plante
Trilby
Fidelis directed a rehearsed reading of her own adaptation with a cast which included Richard E Grant, Celia Imrie and Rosalind Knight
Lady Audley's Secret
Fidelis directed a rehearsed reading with a cast which included Maria Aitken, Christopher Webber and Robin Soans
Drama Schools
Fidelis directed John Ford's The Broken Heart,
William Wycherley's The Country Wife (sadly no photos were taken) and the annual audition show at Central School of Speech and Drama
Fidelis directed an ensemble musical-drama-doc – Fragments From the Life of Marie Antoinette at LIPA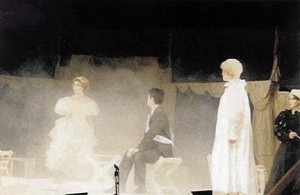 While Artist-in-Residence at University of California at Davis, Fidelis directed Susanna Centlivre's The Basset Table, re-entitled The Gambling Lady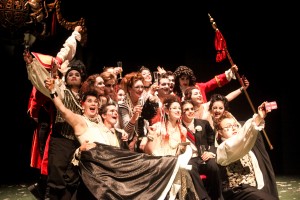 Fidelis has also directed illustrated lectures on The Female Wits and The Female Tatler, Wicked – women's humour, as well as Women Haters of the World Unite which have toured internationally.
Fidelis was assistant director at Glasgow Citizens Theatre under the directorship of Giles Havergal, Robert David McDonald and Philip Prowse.