OFFENBACH
FRENCH KNICKERS: La Vie Parisienne Glasgow Citizens translated the title to French Knickers.  Fidelis played the prostitute Metella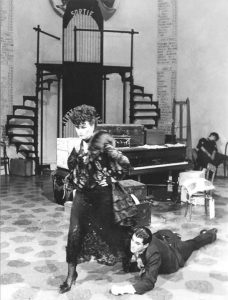 "In swaggering contrast is the languorous Metella of Fidelis Morgan, who takes apart both the letter and the waltz songs, dissecting them for black and melancholic meaning" The Financial Times
Sharp performance from Fidelis Morgan   The Scotsman
Marvellous transformation of Fidelis Morgan…from a neutered tatting dragon of the drawing rooms to the sexy and treacherous Metella (almost Brecht's Jenny Diver here), really making something of her two songs. The Observer
There's some good husky singing from Fidelis Morgan as the vamp Metella   The Guardian
Fidelis has appeared in other musicals and musical theatre.
Her first job was as a KitKat Girl in Cabaret at Perth Rep.

Others include Mrs Peachum in The Threepenny Opera,  Ruth Fischer in Hollywood Days Berlin Nights.
She also sang Coward's Mad About the Boy, with Rupert Everett on piano, in The Vortex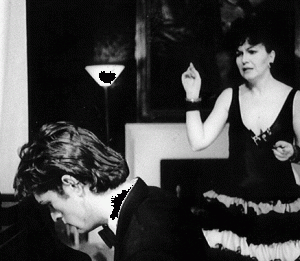 She recorded Irving Berlin's Always which was used as the record favoured by Mme Arkati in Blithe Spirit.
She adores singing, and plays the piano, guitar, harmonica, ukulele and drums, and is trying out the penny whistle.
She plays music constantly when writing, and her personal player always has over 42000 tracks from her enormous collection, which extends from John Adams to Richard Wagner, and Vernon & Marietta Midgeley to John Mayer.