TRIPLE SHORTS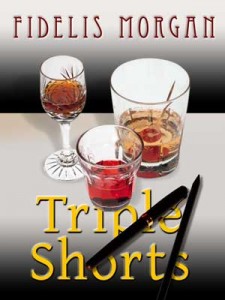 An anthology of short stories, biographies, sketches and playlets.
STORIES
How ballroom dancing leads to murder, a swinging 60s dolly bird recalls her youth, a delivery boy steals mementos from movie stars, and other tales of petty crime and murder.
PLAYS
Revue sketches, theatrical monologues, parodies of Euripides, Shakespeare and Chekhov.  Plus a short play in three acts about the painter Suzanne Valadon and her son, Maurice Utrillo.
BIOGRAPHIES
The lives and extraordinary deaths of three female icons: Helen of Troy, Mata Hari and Queen Medb – Irish Queen of the Fairies.  The lives serve as a prelude for the deaths – written here as a short story and two monologues.
TRIPLE SHORTS is a book for dipping. You'll find every kind of style of writing and something to suit any mood.
read extracts from Triple Shorts